We'd Love to Hear From You, Get In Touch With Us!
For over forty-five years, Court Makers, Inc. has been setting the standard for tennis and pickleball court construction in the Southeast.
Whether you need your courts resurfaced, a new court built from scratch, or just some accessories to improve the look and functionality of your courts, Court Makers is happy to provide industry best-in-class service. We have an ASBA Certified Court Builder on Staff.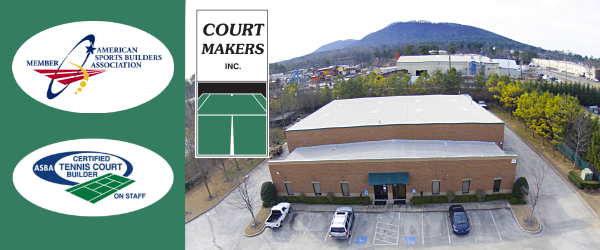 Court Makers, Inc. is a member of the American Sports Builders Association (ASBA), a non-profit trade association made up of builders, designers, and suppliers for sports facilities. Did you know that Court Maker has a Certified ASBA Tennis Court Builder on Staff?
What does this mean?
The ASBA exists to promote the highest standards of design, construction, and maintenance by leading in the development and dissemination of current and accurate technical information, promoting the interests of builders of sports facilities of the type constructed by its members, and providing a forum to gather and exchange ideas and information to improve sports facility construction and maintenance.
The ASBA has about 500 member companies across the USA and many are here in Georgia. However, there are only 4 companies including Court Makers in Georgia with a Certified ASBA Tennis Court Builder on Staff.