By G. Marshall Dye, President Of Court Makers Inc.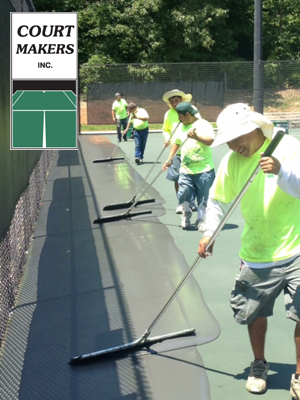 In this article, I will try to answer the many questions that we are asked about tennis courts on a daily basis at Court Makers Inc. Hard courts are the primary courts in the United States. The US Open in New York is played on hard courts as is most all college tennis. Falling in line with the rest of the nation, ninety percent of the tennis courts in Georgia are hard courts. They are typically constructed of a layer of crushed stone and a layer of asphalt with an acrylic surfacing system. The reasons for their popularity are low maintenance, low cost of construction, and high durability.
The tennis industry states that if a hard court is properly maintained, the average life for it is approximately 25 years. Proper maintenance entails simply keeping the court clean on a monthly schedule (removal of leaves and blowing off the courts) and keeping any outside vegetation from encroaching onto the tennis courts. Every five years the tennis court should be resurfaced with a fresh acrylic surfacing system.
Many of the problems that hard courts develop as they age are:
cracking
birdbaths (depressions), caused by the settling of the court
fencing issues
net post and center straps issues
foundation issues
water problems
The severity of these problems will depend on the quality of the original construction, site location, time of year it was constructed, quality of material, and whether the court has been maintained.
Some of the procedures that are typically performed in the life of a tennis court are:
Resurfacing: Every 5 years hard courts need resurfacing; when courts get into the 20+ year range they are resurfaced even more often just to keep them in playing condition. Resurfacing includes pressure cleaning, crack repairing, birdbath removal and typically a 3-coat acrylic surfacing system and striping. Please realize that the cracks will typically re-appear the first time there is cooler weather. Cracks act like expansion joints, and they open up and close with the cooler weather. When having your tennis courts resurfaced, make sure you have a complete understanding of what to expect with the cracks on your tennis courts. Contractors will not provide a warranty on standard crack repair when resurfacing. For a more permanent crack repair you would need to include Armor Crack Repair on cracks. Standard resurfacing runs approximately $8,000 per pair of courts depending on condition and age of courts.


Armor Crack Repair is used on the US Open tennis courts in New York. Court Makers Inc. has been an Armor Crack repair dealer for 20 years. It is the only crack repair that comes with a 5-year warranty. It's a great solution for courts that are showing some age and a more permanent fix is desired on the cracks. This repair is done when courts are being resurfaced and runs $14–$17 per LF plus the cost of resurfacing. While not an inexpensive repair, it comes with a 5-year unconditional warranty on the cracks repaired.

If your courts are in the 20 year range, and you need a more permanent fix than resurfacing, Perma-Flex, may be the best choice. This process is not a total rebuild, but it is the next best process. Courts are repaved with an asphalt overlay system and then surfaced. The cost is approximately $49,000.00+ for a pair of courts. This process comes with a 1-year warranty.

SLIP SHEET RECONSTRUCTION (Total Rebuild)

This is a Court Makers Inc. process that we have been doing for 20 years. This is a total rebuild of tennis courts including fencing, nets, net posts and foundation surfacing system. These are the strongest hard courts we build. Engineer recommended slip sheet reconstruction comes with a 2-year warranty. The cost will be approximately $68,000.00 per pair of courts.

DEMO OLD COURTS AND REBUILD NEW COURTS  Tennis courts can also be rebuilt by demo the old courts, refreshing the rock, and building new courts.  The fencing is commonly replaced during rebuilds.  If access is available, this a good option for older courts.  Rebuilding comes with a 2-year warranty. The cost will be approximately $66,000.00 per pair of courts 108' x 120'.

Titantrax Xtreme Court is a synthetic overlay system that comes with a 20-year warranty and also offers cushion which is easier on the body. Titantrax Xtreme Court is a proven product that is being used on many of the courts in the USA. This product runs approximately $52,500.00+ per pair of courts.

A Revolutionary repair system, with a five year warranty against any cracks appearing and can be extended to 10 years. Titantrax Shield is an economical alternative to both expensive crack repair systems and total pavement replacement of cracked tennis courts.

Titantrax Shield is a special fabric installed over the entire tennis court surface instead of only individual visible cracks. When the cracks widen during the cold winter months, this fabric bridges the weak pavement areas. Shielding your pavement with the Titantrax Shield fabric is effective because it is purposely not bonded to the court surface allowing the base to expand and contract at will. The Shield protects your court from the harsh elements and also will prevent cracks from developing elsewhere on the covered tennis court. With the "Shield" rest assured, cracking will not reflect through to the new surface. This product runs approximately $44,000.00 per pair of courts.

The Above prices can vary greatly, depending on many factors.