You've probably played on one of our tennis courts.
If you are a tennis player in Georgia, chances are you've probably played on a tennis court we designed, constructed, lighted, or resurfaced. We specialize in the ALTA community, swim & tennis clubs, private country clubs, schools, private home courts, apartment courts, and public courts.
As a leader in tennis and pickleball court design, construction, resurfacing, lighting, and equipment supply, our top priority is getting the job completed on time and in a professional manner. We pride ourselves in ensuring our customers both top-quality tennis/pickleball court construction as well as the most competitive court construction cost.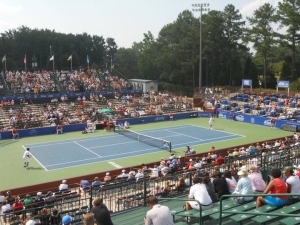 It was a great honor that Court Makers was selected to construct the tennis courts at the Atlanta Athletic Club for the Atlanta Tennis Championships (US Open Qualifier).