Har Tru™ is the world's leading clay court surface and CourtMakers knows clay courts.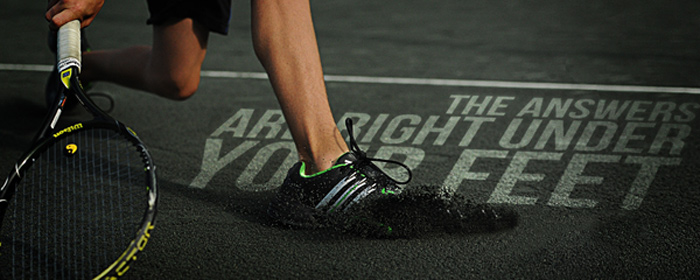 Although it is referred to as clay, Har-Tru is actually composed of crushed stone. This is what makes it such an effective tennis court surface. It is more durable and more consistent than its European clay-court counterparts.
Har-Tru is made from billion-year-old Pre-Cambrian metabasalt found in the Blue Ridge Mountains of Virginia. It is a natural green stone that is extremely hard and angular, two very important qualities when it comes to tennis court construction. The angularity helps the stone particles lock together to form a stable playing surface.
The hardness provides exceptional durability. The natural green color is classically clay and instantly recognizable. The stone is crushed, screened, and mixed in the precise proportions necessary to produce a stable playing surface. It is then installed over a porous base of crushed stone aggregate to produce the final product.
Har-Tru is a unique crushed stone product that offers many benefits to court owners and tennis players.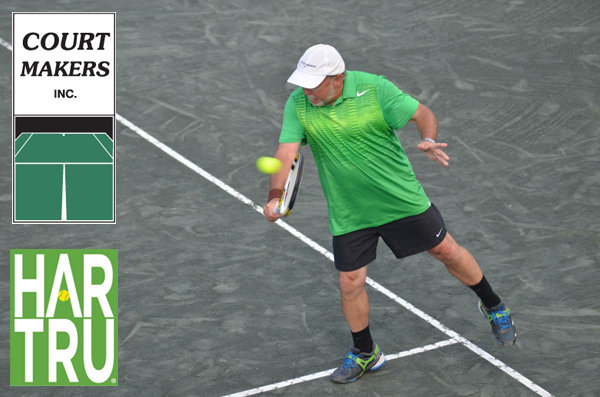 1. Generically referred to as "fast-dry," Har-Tru dries quickly after a rain and allows you to continue playing through light rain.
2. Har-Tru is 10–15 degrees cooler to play on than a hard court.
3. Har-Tru is easier on the body and reduces the incidence of common tennis injuries to the lower extremities.
4. Har-Tru is quickly and easily installed and can be constructed directly on top of hard courts.
5. Har-Tru is a porous surface that reduces runoff and soil erosion. Consequently, Har-Tru can be installed in locations where many tennis court surfaces cannot due to zoning restrictions.
6. Har-Tru never cracks and repairs are simple and inexpensive.
7. With simple, consistent care your Har-Tru court will last forever.
MAINTENANCE TIPS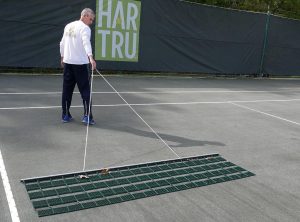 Har-Tru courts are not as complicated as many paint them to be. Care can be as simple as 10 minutes a day.
1. The best thing for a Har-Tru court is to play on it as frequently as possible.
2. Brush the court right to the very edges after each use. Make sure the court gets brushed at least once a week.
3. Water adds stability to a court. Use an automatic sprinkler system or HydroCourt to keep optimal moisture present.
10 REASONS TO CHOOSE A HAR-TRU SURFACE
1. It's the surface 88% of the world's top 10 players grew up on.
2. You will develop essential core footwork and balance skills that play on other surfaces just don't teach.
3. You will develop a complete all-court game.
4. You will learn how to construct a point and beat higher-ranked players.
5. You will improve your patience and persistence and learn to handle adversity better.
6. Playing on Har-Tru will improve your endurance.
7. What you learn on Har-Tru allows you to succeed on all surfaces.
8. You are seven times less likely to be injured on a Har-Tru court than on a hard court.
9. Har-Tru allows you to play more hours a day and more days a week without over-stressing your joints.
10. In short, you will add more game to your life and more life to your game.
The World's Best Clay Surface Tennis Courts, Har-Tru
Learn all about the green stone quarried in Charlottesville, Virginia that goes into making the world's best clay surface tennis courts.