We Are Here To Serve You
As a leader in tennis court design, construction, resurfacing, lighting and equipment supply, our top priority is getting the job completed on time and in a professional manner. We pride ourselves in ensuring our customers top quality construction at competitive pricing.
In addition to the outstanding services that Court Makers provides, you can depend on quality tennis court equipment and supplies at outstanding prices. We feel so confident about our court equipment pricing, that if any competitor has the same item for less, we will automatically beat that price by 5%. With our quick service, quality products and unbeatable prices, we just can't be out done!
If you are a tennis player in Georgia, you have probably played on a tennis court we designed, constructed, lighted or resurfaced. Let us build your next tennis court.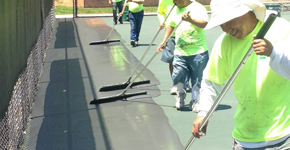 Court Makers uses a technique called slip-sheeting. It is proven to be more effective then other methods and we are the only company in Georgia that resurfaces using this technique.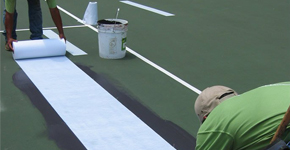 Depending on the condition of the court we offer many solutions to repair your cracked tennis courts. TitanTrax and ARMOR are both proven to repair your asphalt tennis courts.
Court Makers, Inc. is a lighting dealer for RLS, TechLight, Elsco Lighting, and LSI. These are the finest environmental light systems available.
Court Makers will design and install custom windscreens for your community, home, or public park tennis courts.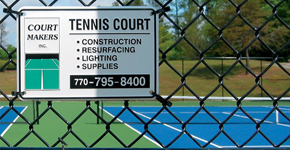 We offer tennis court supplies & equipment from nets, benches, score boards & much more at competitive pricing. Check out our store today!

Join the 150,000+ satisfied CourtMakers customers today!
Request a Quote